Collagen is a super molecule that's selling hot in the beauty market today! From offering anti-aging properties for the skin to offering a viable product that helps with joint health, the collagen industry is poised to be a billion-dollar industry!
Biologically, collagen is a protein, but not just any protein! It is found in multiple areas like skin, muscles, blood vessels, gut and joints. It constitutes around one-third of the total proteins found in the body.
Collagen is available quite abundantly in the body when you are in your 20s. However, there is a consistent decline in the production of this protein in the body starting from the early 30s.
Less production of the protein results in a few changes like wrinkled skin, dehydrated skin, loss of bone mass in joints, and many related changes. However, there are plentiful ways to boost the levels of collagen in the body so that the skin so that the joints and skin can remain healthy for a longer period of time.
What can you do to protect collagen in your skin?
Consume Vitamin C rich citrus fruits:
Vitamin C is your skin's best friend, always! A study from the Indian Dermatology Online Journal points out that Vitamin C intake assures skin protection and increased production of collagen in the body.
You must be familiar with the popularity of Vitamin C rich beauty products in the market. Some of the high Vitamin C rich food sources are citrus fruits, papaya, broccoli and strawberries.
Increase the intake of Hyaluronic Acid:
Hyaluronic Acid is present in food items that are rich in amino acids like beans, root veggies and soy. Intake of such items helps to boost levels of collagen production in the body. Hyaluronic Acid can also be taken in a supplementary form.
Try plant-based collagen health supplements:
Health supplements are effective when it comes to increasing the intake of plant-based collagen. Consuming a collagen-rich diet, animal-based and plant-based for vegans can boost the levels of a biomolecule in the body, giving softer skin, happier gut and stronger joints.
Apply and consume Aloe Vera gel to protect the skin:
Skin health is equally dependent on internal factors and external factors. Skin needs protection from sunburn and tanning, and the application of aloe vera gel on the skin is a foolproof way to do that. Interestingly, aloe vera is beneficial for the skin in both ways. It can be applied to the skin for protection and can also be taken orally.
It was reported that the consumption of aloe vera increases the production of collagen and Hyaluronic Acid in the body, according to a study posted in Clinical Cosmetic, and Investigational Dermatology.
A significant reduction in facial wrinkles was also reported, which is a great news for the anti-aging beauty product's industry.
Consumption of antioxidants:
Antioxidants are great not just for skin, but for many other bodily functions! They protect the body from free radicals. All antioxidants might not help in increasing levels of collagen in the body, but they do help the collagen molecules to work effectively for multiple body functions.
Antioxidants are mainly present in natural products like cinnamon, coffee extract, blueberries, mulberry, pomegranate, basil, and so on.
Eat Omega fatty acids rich diet:
Omega-3 fatty acids are present in abundance in fish. Regular consumption of fish is a great way to prevent the loss of collagen in the body.
A good amount is present in bone broth:
A delicious bone broth that is simmered is a great source of collagen. It naturally leaches out of the bone when boiled for a long time.
Take Algae:
Did you notice an increase in algae-based beauty products in the market? Algae works as a great source of antioxidant and helps maintain levels of collagen in your skin.
While it is true that many collagen-rich food items are animal products, they can also be derived from plant-based sources. In fact, due to an increase in interest in veganism, researchers are finding numerous ways to fulfil plant-based collagen production.
Scientists have managed to produce collagen through genetically modified yeast and bacteria. Research says that the bacteria P. pastoris can produce top-quality collagen in the lab. While this might not have reached commercial levels, there is a lot of scope in the future.
A lot of naturally occurring herbs and fruits like Sea Buckthorn, Maqui Berry, Millet seeds, red Mandarin, and others contain good amounts of collagen that is used in a variety of health supplements and beauty products.
Popular plant-based collagen-rich products for you:
Native plant-based collagen powder by Edible Beauty:
The native plant-based collagen powder promises anti-aging properties by amalgamating naturally-occurring collagen from superfruits like Hibiscus, Kakadu plum, Quandong Sea Buckthorn, Maqui Berry, and more! The product offers a high quantity of essential elements like Vitamin C, Vitamin A, Anthocyanins, Amino acids and antioxidants.
"It's a must-have – A daily essential for me, even though I'm only in my early 20s this product has already really made my skin glow and will hopefully make me look 30 in my 40s :)", says Toria while reviewing plant-based collagen powder's benefits.
Deep-sea collagen elixir – plump and refine by Edible Beauty, Australia: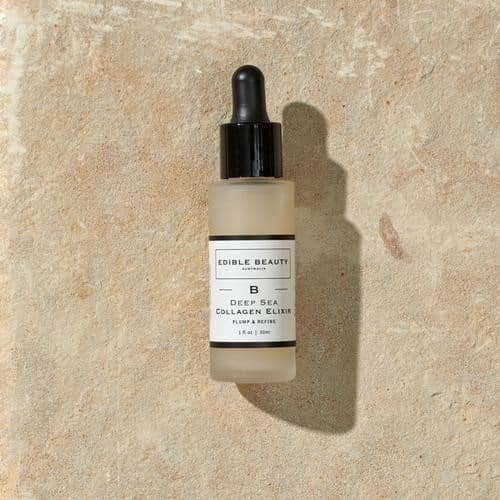 The deep-sea collagen elixir promises a radiant and youthful skin glow! The top-rated collagen-based skin product blends everything natural like Acacia Senegal, Xanthan gum, Litchi Chinese's, Seaweed, red Mandarin, Peel oil, Millet seed extract, Limonene and more to create an elixir for skin! The product is completely animal-free.
"A new staple in my routine! My skin texture has never been better since using this product! My skin looks dewy and plump when I wake up. will be purchasing this again.", says Hannah O., while reviewing deep sea collagen elixir.
It is never too early to start taking care of your skin! Collagen is an important building block of your skin and contributes majorly to maintain your skin's health.
For anyone who is in the mid-thirties, it is high time to take proper care of skin and its collagen component to maintain a youthful hue.
Apart from age, pollution and sun damage can also damage skin and its collagen content. So, a healthy skincare routine and nutritional supplement go a long way in assuring a childlike glow on your face!